The holidays may be coming to a close, but we like to feel and look our best all year round. Nothing screams sexy like a silk slip dress. This dress just isn't for the bedroom, wink wink, but perfect for a fancy dinner outfit, a night out outfit with your girls, or even a casual look. There are many stylish options and dresses you can choose from, but the most popular ones are the short slip dresses with a low neckline with shiney silk material.
Silk is a thin material so it leaves nothing to the imagination, but that's okay – there are many styles to choose from, and a lot of dresses that have thicker material so it's not super thin/see through. The silk falls graciously on your body and it's not super tight so you won't notice every part of your body, but it's still flattering enough that it doesn't cover your curves completely!
The first way to wear a silk slip dress is for a casual look perfect for a nice brunch, or going with your girls to take some Instagram pictures. Wear it under a white long sleeve and some white sneakers for a cute look. Complete it by throwing on some cute accessories such as a brown shoulder bag and some gold jewelry. This will make the perfect casual outfit that's also super chic.
The next way is to wear a black slip dress with a faux diamond choker and black mules. This is totally a Paris Hilton inspired look for when you're ready to head to the club. If you don't want to look extremely fancy, you can swap out the heels with some white tennis shoes and throw your hair in a messy bun. Take a couple pictures with the perfect lighting and you'll have the perfect outfit to make you look like a baddie.
If you want to look extra fancy such as going to a Gala, a New Years Eve party or even a dinner, then a long slip dress with strappy high heels and a black clutch is all you need. You can keep this extremely simple without going too over the top. Keep it sexy by going with a dress that has a long slip at the side so you show a little leg. For heels, don't go for basic strappy heels. Add a little spice with some tie up heels that you can tie around your ankle/calf for a more unique look.
You can keep it modest by going for a modest maxi style dress with long sleeves. You'll still look amazing but modest and put together. Keep the accessories simple too, you don't need too much! You don't need to keep it simple with this one, because a lot of these maxi silk dresses have ruffles or some type of textured bottom hem.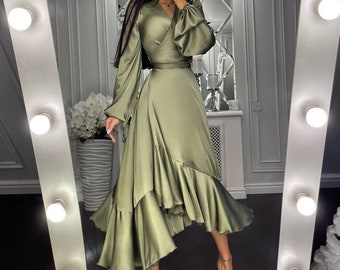 Finally, depending on what type of event you're going to, you have a variety of colors to choose from for the dress. there are however a few staple colors such as black, brown, pink, orange and burnt red. See what goes well with your accessories and vibe of the event or place you're going too. Either way, the silk will look super flattering on anyone and give you a sexy look.