Valentine's Day 2022 is coming up, and it's time to celebrate with your sweetheart and enhance your relationship. Even while you don't need a particular day to express your feelings of love and devotion, you do need an occasion to dress up for that special occasion and appear attractive as you've never been before. Look better than ever with your date or your girlfriends on this special day. You'll look amazing out, and you can capture the outfits which is perfect for that must-have Instagram baddie outfit picture.
Casual
Try a casual, personalized look that includes some Valentine's Day-themed details. This way, you won't look overdone and won't have to give up the comfort of a casual outfit. Wearing a sweater with a heart pattern, heart-shaped applications, or anything essential to pair with a heart-printed scarf is the quickest and most straightforward solution! You don't have to wear high heels. You can wear boots or boots instead.
Chic
Chic usually refers to ladylike clothes, like high heels, a closed or A-line skirt, a blouse or shirt, or even a T-shirt for people who are really into fashion. If it is Valentine's Day, though, chic would have a little bit of romance. You can make a unique look stand out by using pink, white, and red! Colours You can make it like the example below, but make it to your liking!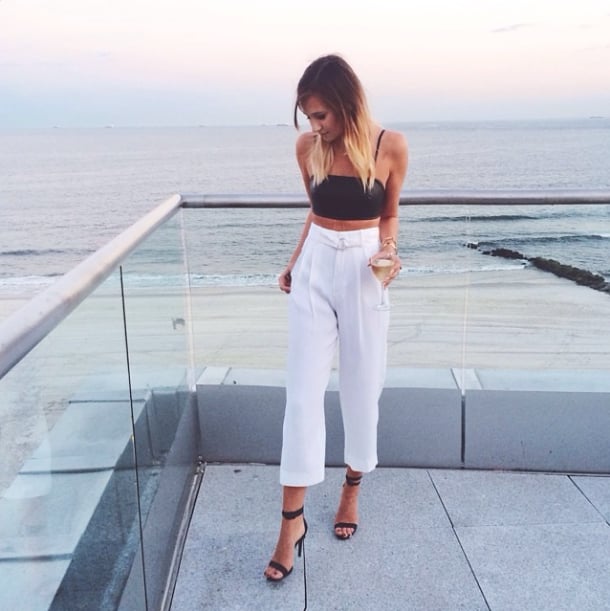 Bad Girl
Suppose you have a "bad girl" attitude. Are a nonconformist, enjoy fashion and want to stay current but dislike the idea of hearts and similar prints, you have two choices: work around it, which means you can opt for alternative prints like kiss stain; or even dress to kill, which means you can incorporate rock or sexy elements into your outfit, such as targets, black colour, unique combinations, shoes instead of heeled shoes, and so on!
To A Movie and Dinner
An outfit that looks old-fashioned and classy is a good choice for a V-Day date. Short, form-fitting dresses look great with delicate jewellery and ankle boots with low heels. This look is both casual and formal at the same time. Wear a cardigan to warm yourself and balance out your style.
Out on the Town
If you're travelling downtown to barhop or even shop, you'll want to create a glamorous but comfy V-Day appearance. There is a good chance that you'll have to walk on your downtown date, so don't wear stiletto heels! Block heels or flats are better than high heels because they won't make your feet hurt. The style of dress you choose should be loose enough to move around if you end up dancing or walking more than you thought you would. Bring a cardigan or coat if you're going to be outside at night and it starts to get cold.
On a Picnic
Valentine's Day is a great time to go on a picnic if the weather is warm enough to spend time outside in February. If you're going to spend Valentine's Day on a blanket in a field, make sure your clothes are comfortable and easy to move in. Mix high-waisted jeans with a charming, fitting blouse and attractive shoes for a casual, feminine look.
A Pink Power-Suit
Valentine's Day should be a celebration of self-love, and this should not be confined to romantic relationships. A good power suit is a great way to show that you're in charge when you're out with your friends. Wear this pink one with strappy sandals or sleek sneakers and tighten the waist.
Romper for Valentine's Day
It can be very sexy to wear rompers on Valentine's Day because they are so short. They're a fantastic way to dress up for a date or a dance without wearing a full-length gown. The romper can be red, pink, silvery, white, or black. Due to the popularity of rompers, there are several options for Valentine's Day. You may also wear a romper with a more covered top to highlight the sensuality of your legs.
Bandage Dress
During Valentine's Day, you could indeed wear a dress that shows off your body very well. This could be a bandage dress. These dresses are highly deceptive since they cinch you and behave as innerwear without requiring you to wear shapewear beneath. If you want to look good but don't want to wear shapewear, bandage dresses must be your choice.
Simple is Sexy
The idea of outfit preparation might make you want to abandon your plans. Before giving up, the first thing you should do is go back to simple. Don't stress over your Valentine's Day clothing. You can't go wrong with a slinky top and jeans.
Choose the dress you want to wear this Valentine's Day and show off. Complete the preparations for a party by picking the dress you like best. It's your turn to shine and make the event sparkle.