Many workplaces are opting for a smart and casual look. It allows everyone to be stylish yet professional. If you find it hard to dress well and relevant at work, this guide will help you. You have to find a balance between a comfortable yet professional look. So, let's give you some ideas about smart and casual work attire for women!
Smart and casual work attire includes professional-looking stylish, polished clothes. Toned-down material and colors, and more of a sleek look are what smart and casual is all about. It's important to note that a lot of textures, prints, and patterns can make you look less professional. These are considered casual but not smart.
Ideas for a Smart Casual Work Attire for Women
The first step in achieving a smart casual look at your workplace is to buy some important piece of clothing. You can pair up these clothing pieces in different ways and come up with a new, smart look for work.
These include:
Plain blouses.
Plain button-down shirts
Blazers
Neutral Pants
Plain, neutral-colored heels or flat pumps
Blouses
For these blouses, you need something that is toned-down, not extra, and with sophisticated prints if any. You can buy any color for the blouses, but some colors that you must have include black, white, and beige. These 3 colors can go with every outfit.
Button-Down Shirts
Button-down shirts make everyone look smart instantly. However, they do qualify for casual too. You can go for different materials for a button-down shirt. If you want a fierce look, silk button-down shirts can look mesmerizing and you get to look smart and casual too.
Blazers
To go a step ahead, you can pair up blazers with your smart-casual office look. A blazer is the easiest way to get that professional look. It can make you look decent, modern, and stylish.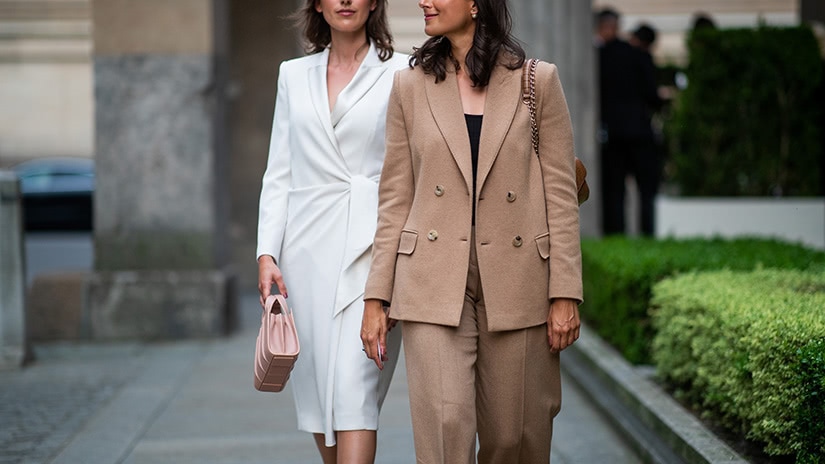 Pants
For the pants, black, white, and dark blue are essential colors. They will go with most of your attires. But you don't need to stick to jeans or chinos only, you can go in a skirt too. Plain culottes can get the job done as well.
Shoes
For shoes, heels, loafers, and flat pumps can both get the job done. All you need to remember is to keep the shoes polished with little texture or embellishment.
Smart and Casual Winter Style for Women
For winters, you can incorporate sweaters in your look. Wear a button-down shirt, tucked in your pants or skirt underneath. The collar showing from underneath will provide a stylish look. You can attach some brooches on the collar for a chic look. Long coats and scarves are a great addition in winters.
The Bottom Line
Smart and casual office attire for women is all about a stylish, professional, and comfortable look. Find the style that suits your comfort zone the most. Being confident is also an essential element of a smart casual look.